in the northern direction, the hummingbird represents the courage one must have to embark on an eventful journey. For the viewer who is embarking on the eventful journey of life, it helps to connect with the energy of the hummingbird. It is an energetic connection with the principle of nature. The iris flower represents a positive message. At the same time it is a symbol of creativity, energy and constancy: "I stand by you unconditionally" and is thus a sign of loyalty.
Artist statement "A kaleidoscope of emotions: A woman's journey in color and spirituality"
Each of my works is the result of a lifelong journey. As a woman, mother and artist, I have faced and grown through the expectations of society. In the midst of all this, art remained my sanctuary in which I expressed my emotions and deep spirituality.
In my paintings, vibrant colors and passionate strokes speak of the experiences of my youth and my role in this world. They are my personal expression of self-confidence and empathy. With every brushstroke I create a world in which you, the viewer, can find yourself, feel touched and inspired.
My vision for art goes beyond the canvas. It is a bridge to self-discovery and self-reflection. Art has the transformative power to heal us and guide us. I invite you: see yourself in my paintings, be inspired by them and find your own story and your own glow in them.
Biography
A journey between tradition and self-discovery
From colorful Pakistan to culturally diverse Germany, the artist has experienced a journey of contrasts that has shaped her creative soul. Even as a child, she was given a world rich with color and emotion that inspired her to portray feminine beauty and strength through her artwork. Her early successes in art were dampened by family obligations and cultural expectations, but the flame of creativity never fully extinguished.
Using a technique that fuses emotion and design, she creates artwork that is not only aesthetically pleasing, but also takes the viewer on a transformative journey. Her works are not only an expression of her own experiences, but also serve as a catalyst for self-discovery for others.
As a self-taught artist who was both born in Pakistan and settled in Germany, she has integrated the best of both worlds into her art. After a personal journey of self-discovery that took her not only through art but also through her training in healing psychotherapy and psychological coaching, she returned to her first love, art. With continued courage, encouraged by positive feedback from the media and her circle of friends, she now depicts emotional and spiritual aspects of human existence.
Immerse yourself in the works of art, be inspired by the color palette of life and discover the inner strength that lies dormant within you – because each piece is not only a work of art, but also a mirror of the soul.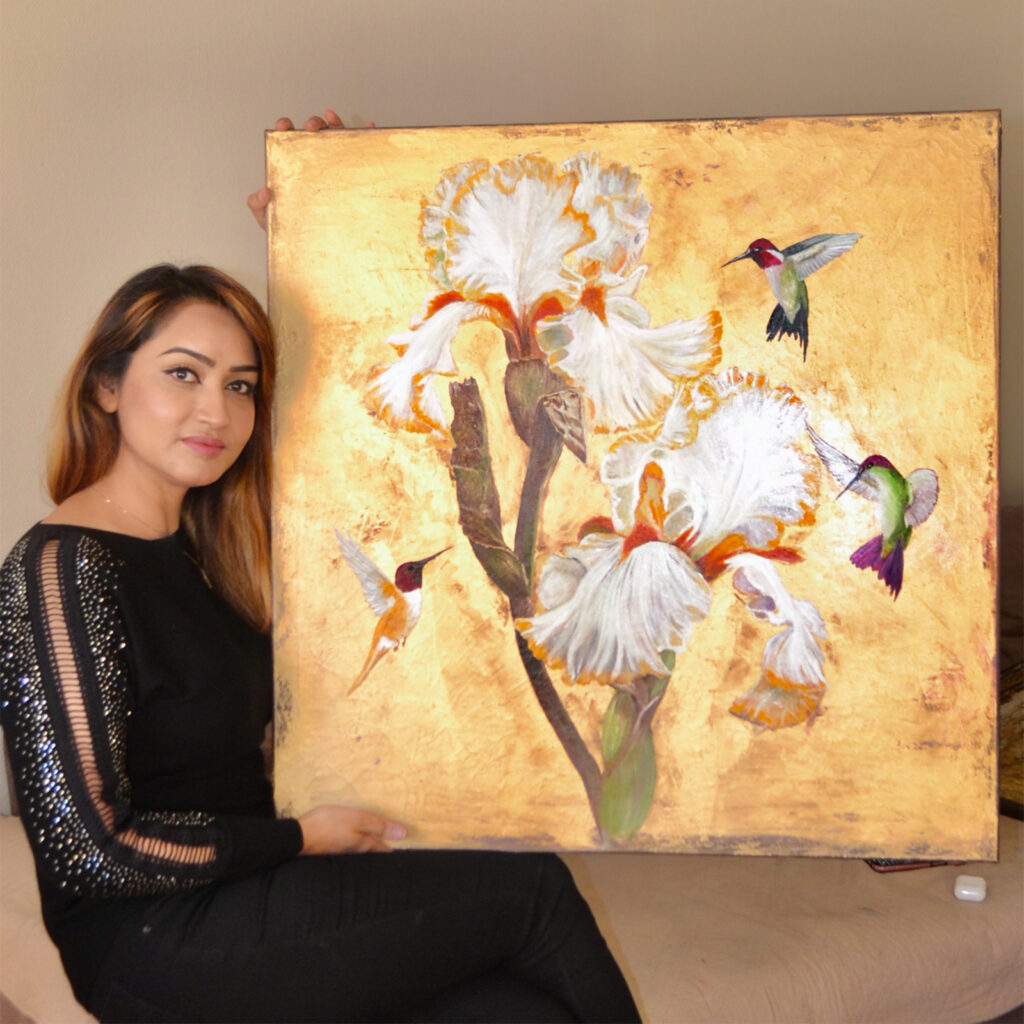 A few ways to get an original piece of art from me....
I fell in love with Ruksana's art at first sight. You can just feel the heart and soul. Absolutely fascinating is also her diversity. I consider myself very lucky to own a beautiful painting of hers and enjoy it every day.
Rosita Darrel
I bought a painting by Ruksana in 2014, when I saw it for the first time, it immediately captured me. I love the artwork because of the message I interpreted in it... "even if you think you are trapped, there is always a way to free yourself" the painting is now hanging in my living room, I see it every day and enjoy it.
Hans-Peter Köpplinger
"Ruksana belongs to the school of fantastic realism or symbolism with her extremely representational painting. By using strong colors, the painter awakens her sometimes cynical statements to idiosyncratic life and animates the large crowd of lovers of her works to think. Again and again one discovers new details in the paintings that remain hidden from superficial observation. Hidden hints and explanations become apparent to those who study the paintings intensively..."
Nicole Guillery
Exhibition the journey of the soul in Cologne Link Architects, Kulturkirche Rondorf 11.2023
Exhibition Healthy Living Messe Frankfurt 02.2023
Exhibition Eyecandy Northwest Center Frankfurt 05.2022
Exhibition emotions meets faces 07.2022
Exhibition emotions meets faces 07.2022
Exhibition in Schöneck 11.2020
Sign up to save 10% on your first print. My subscribers get access to new series, giveaways, home decor tips and news from my studio before anyone else!