in the northern direction, the hummingbird represents the courage one must have to embark on an eventful journey. For the viewer who is embarking on the eventful journey of life, it helps to connect with the energy of the hummingbird. It is an energetic connection with the principle of nature. The iris flower represents a positive message. At the same time it is a symbol of creativity, energy and constancy: "I stand by you unconditionally" and is thus a sign of loyalty.
"My imaginative & symbolic oriened paintings are informed by my culture and depth psychology. They invite you to look deep into the innermost part of your soul and recognize the value of yourself.
Ruksana Kausar – artist from Frankfurt
Colours have accompanied me since the beginning of my life. As a child, I was given a world full of colours which became my inspiration, and I developed a deep passion for colours and creativity.
My childhood in Pakistan, and the subsequent immigration to Germany in my youth, were influenced by the millennia-old, far eastern culture, where especially, the female values and feminine beauty played a role in my life. First art exhibitions in teenage years followed, but receded into the background because of my busy family life.
Additional strokes of fate, old believed conventions as well as culturally conditioned prohibitions, my fears and my shyness to be able and to be allowed to present myself to the outside, made me almost forget the art.
Over the years, my role in the family shifted and the  thoughts of art, time and space for it, awoke again. This was the beginning of rediscovering myself and my art.
I also became interested in deep psychology and learned or allowed myself to live out my own desires and needs. This was followed by a training as a healing psychotherapist and studying as a psychological coach, which additionally filled out my art.
Positive feedback from the media and also from the circle of my close friends encouraged me on my way. Today, my work enables me to depict various emotional aspects or themes and spiritual nuances of the human beings, therefore, gives other people a sense of strength that lies dormant deep within.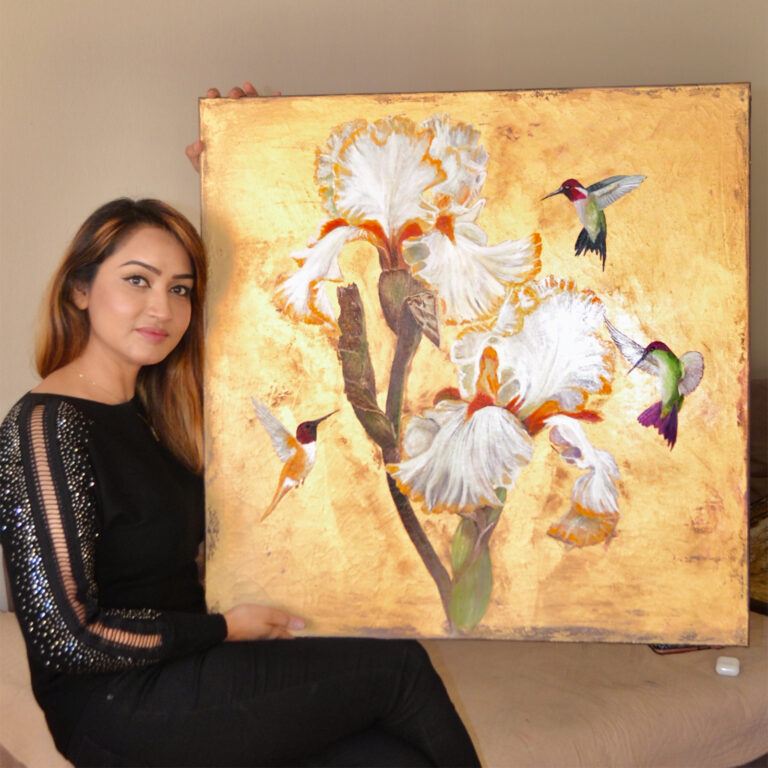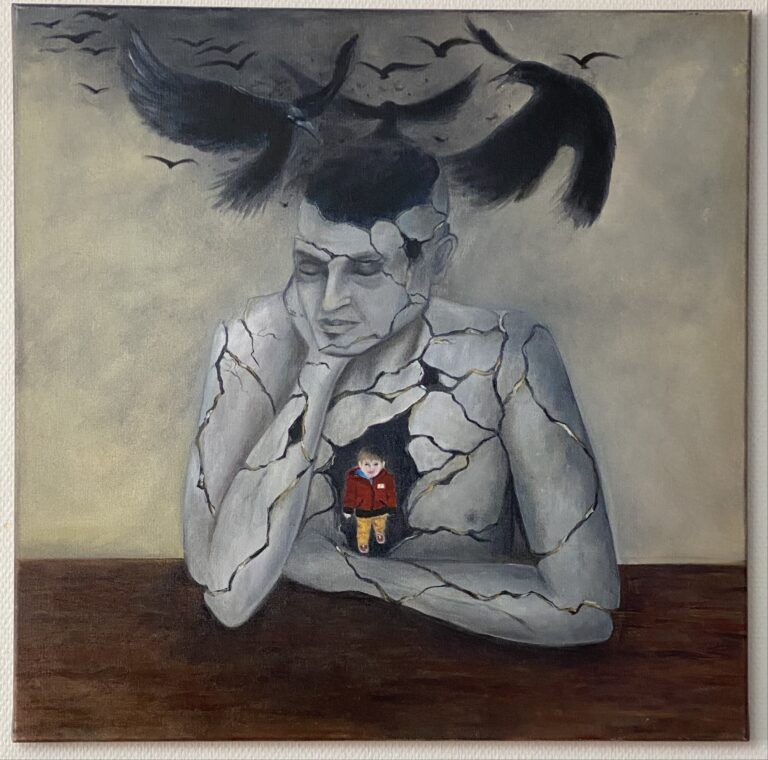 A few ways to get an original piece of art from me....
I fell in love with Ruksana's art at first sight. You can just feel the heart and soul. Absolutely fascinating is also her diversity. I consider myself very lucky to own a beautiful painting of hers and enjoy it every day.
Rosita Darrel
I bought a painting by Ruksana in 2014, when I saw it for the first time, it immediately captured me. I love the artwork because of the message I interpreted in it... "even if you think you are trapped, there is always a way to free yourself" the painting is now hanging in my living room, I see it every day and enjoy it.
Hans-Peter Köpplinger
"Ruksana belongs to the school of fantastic realism or symbolism with her extremely representational painting. By using strong colors, the painter awakens her sometimes cynical statements to idiosyncratic life and animates the large crowd of lovers of her works to think. Again and again one discovers new details in the paintings that remain hidden from superficial observation. Hidden hints and explanations become apparent to those who study the paintings intensively..."
Nicole Guillery
Sign up to save 10% on your first print. My subscribers get access to new series, giveaways, home decor tips and news from my studio before anyone else!